When I began giving drawing lessons to 8 year old James over Zoom this summer, we didn't know how it would play out. Now, in early December, our progress has exceeded my expectations. Read more here.

---
Read my essay (c. 2014) regarding my philosophy on education.

---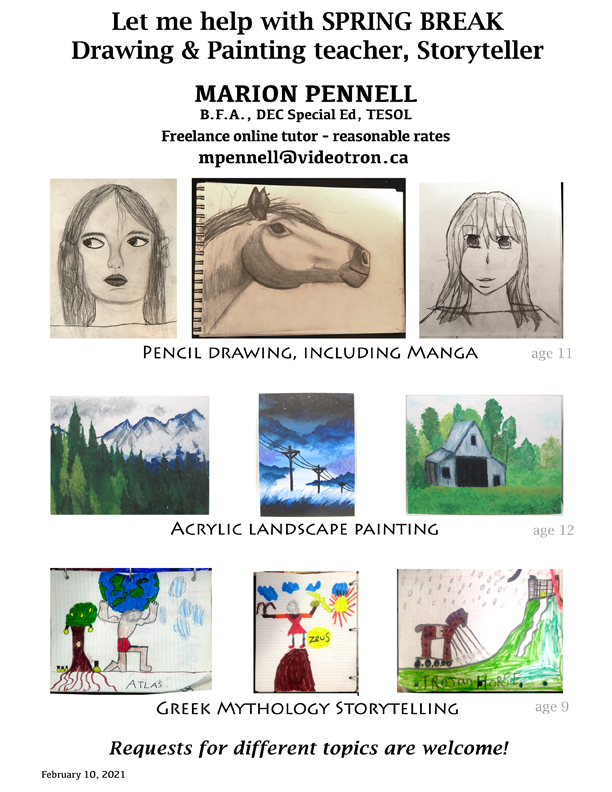 ---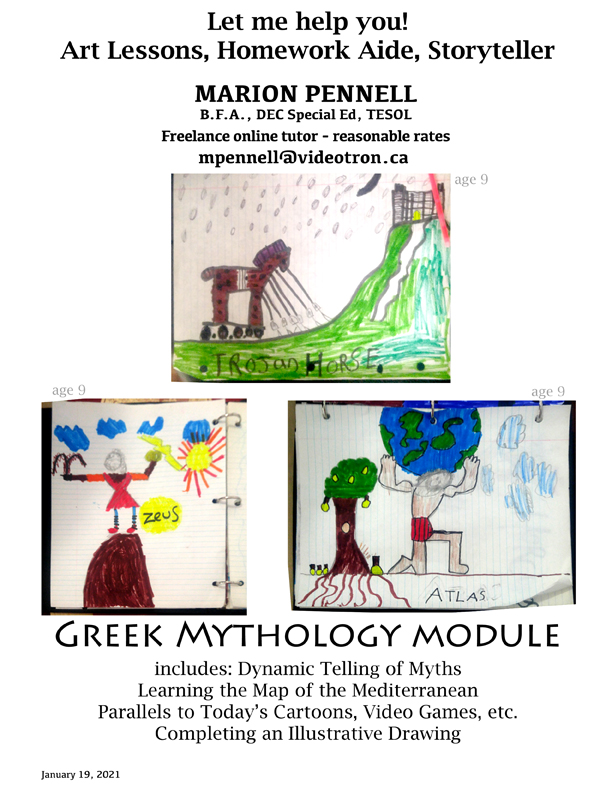 ---
---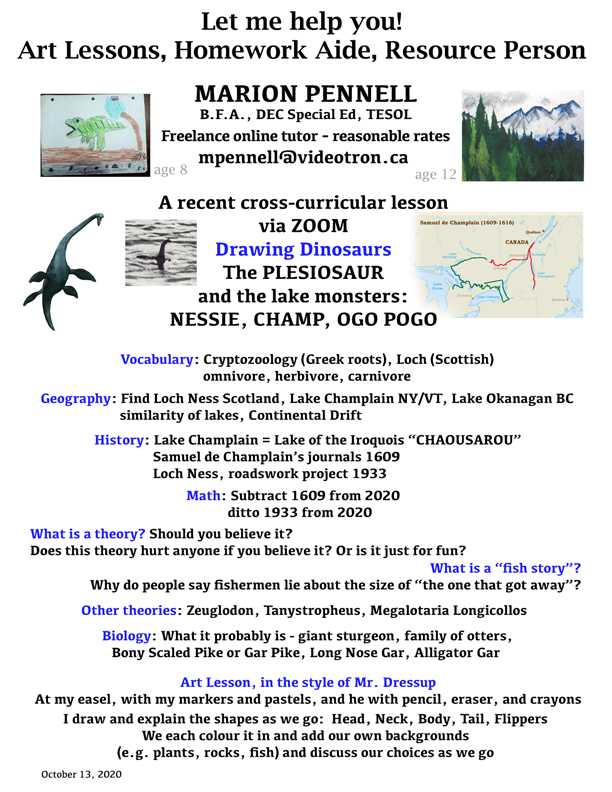 ---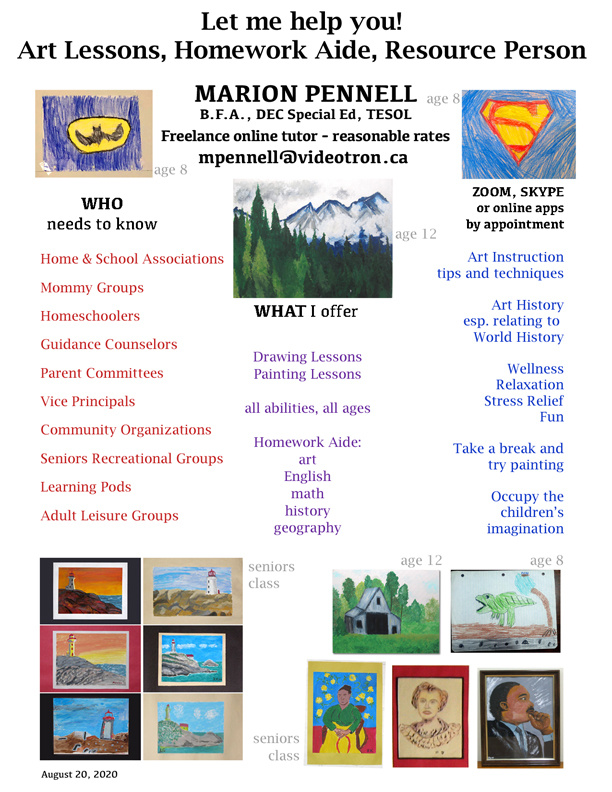 ---

Personal Fine Art Instruction
Arts and Crafts - age 5 to 105
Recreational Acrylic Painting - groups of all ages and ALL aptitudes
How to Draw - for the serious novice artist

Qualifications:
B.F.A. Concordia, Montreal - followed by a backpacking/museum tour of Europe.
Have taught art in many capacities - from preschool (Clay Creations) to adolescents (Wall Murals) to seniors (Acrylic Painting).
Have a degree in Special Education using Art Therapy and Art as Recreation
Qualified for special populations/clientele.

My Mission Statement:
I believe that my passion and talent for art is truly a gift and it is my pleasure to share it.
When you do what you love, you can pass on your passion and live more effectively.


---

ON LINE INSTRUCTION
I stand when teaching in front of the camera as I believe it is more dynamic. I encourage maximum interaction and engagement.

ART TEACHER
(for artists)
The teacher's job is to further the student's knowledge of fine arts techniques and history, enabling the student to express herself through art with confidence.

10 year old, over Zoom, Fort McMurray, AB
2020 DRAWING
Pencil drawings with shading of female faces and horses. Proportions, use of materials, mental process.

12 year old, over Skype, St-Lazare, QC
2020 ACRYLIC PAINTING
Completed landscape paintings in 3 sessions each. Colour theory, perspective, mental process.

Sec V, over Google Classroom, Montreal
2020 VISUAL ARTS
Complete Syllabus ready to go in accordance with provincial guidelines, featuring drawing (Betty Edwards, Drawing on the Right Side of the Brain), painting (from other painters, from life, from imagination), and art history (women in art, Realism, Impressionism, Pop Art, Guernica to Banksy). Sadly, my contract at this prestigious private school was vetoed by students who preferred in-person classes to virtual education. Administration would confirm.



ART TEACHER
(for recreation, ie. "non-artists")
The teacher's job is to make each student feel a sense of accomplishment as they grasp the task at hand, thus motivating them for future learning.

9 year old, over Zoom, North Bay, ON
2020 DRAWING, COLOURS, NARRATIVE
Introduction using a Noah's ark and rainbow theme, with a mnemonic for the colours of the rainbow. Modeled with an easel, marker and crayons, broke down elements so that student could copy step by step for a successful end result. Subject matter has encompassed superhero logos, dinosaurs, prehistoric mammals, and Greek mythology. Lessons have evolved to include cross-curricular topics, maps, history, vocabulary as well as conversations tying in the student's own knowledge.

Pioneer Seniors Club, Union United Church
2003-2007 PAINTING
Seniors Club, St. Paul's Anglican Church
2004-2005 PAINTING
In order to maintain interest I encouraged them to bring photos or images of "home" to paint. I also explained how perfect representation was not the goal, the goal was art.

4-8 year olds, Cote St. Luc Recreation Centre
1994 CLAY CREATIONS
A lot of non verbal behaviour required astute observation. Modeling was imperative. Breaking the tasks down into small manageable goals ensured the children more success than frustration. To teach a child with behavioural challenges, I promoted him to my assistant and praised all his accomplishments at getting along with the other children and he became a star "artist".

12-16 year old boys, Batshaw Family Services, NDG & Prevost
1991-1994 MURALS
Painting murals taught clients mastery of new skills, allowed them to express themselves in a different language medium, encouraged pride of accomplishment. Hosted a vernissage for the campus.


---

EDUCATION

International Open Academy (online, Ireland) 2020
120 hour TESOL certificate

EI program at Dawson College, Montreal 1997
Certificate of Graphic Arts

College Marie Victorin, Montreal 1995
DEC in Techniques of Special Education

Concordia University, Montreal 1985
Bachelor of Fine Arts (Minor in Mathematics) - Graduated with Distinction

Mackay Centre, Montreal 1982
American Sign Language - recreational class


---