Marion Pennell Home Page
Back to Pet Portraits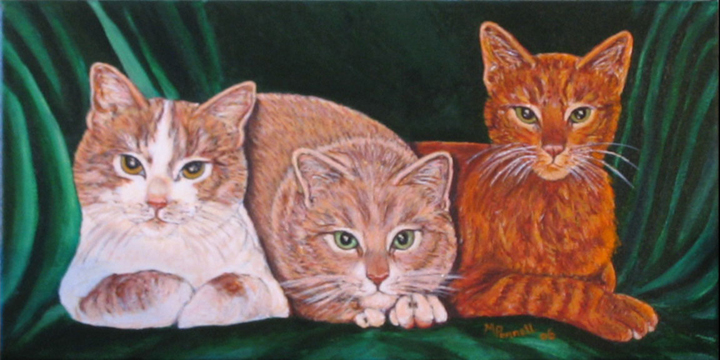 Bonnet, Mikey, & Arthur
&copy Marion Pennell 2006
Acrylic on canvas
16 inches wide x 8 inches high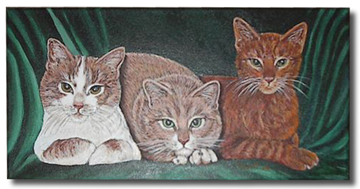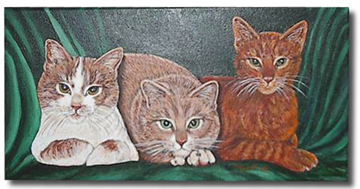 note: The 3 images are of the SAME painting, but different cameras skew a little differently, as well as glare, so I chose to display all three.....






A few comments from several e-mails from a happy customer... Painting was received on December 22 in time for a Christmas surprise!!!



I love it and so will she!
The paint even feels fresh..heh heh.
I'll write back as soon as I can, she is home all weekend so it might take me a while to get back to you until after Christmas.
(It is at Mom in laws right now, being wrapped.)

It came out unbelievably great Marion....very happy here as always.
You did a wonderful job beyond expected!

She loved it!!! Shed a few tears also...
Thanks for a great job well done as always, and as soon as the Holiday hectics end I'll send you a few pix.
We have to still pick out a frame later in the week.
Even she said you got Arthur perfect in his upper age.
Sorry about all the orange colors..btw!!

Thank you once again for a job most wonderfully done!

Hopefully we will get time next week to frame it, as she loves it dearly.
This one... although all are spectacular that you did, this one having 3 on the canvas really is something special!!
You always capture them in a perfect, accurate time capsule.





Some other members of the "family"
Louie
Oreo, aka "Feet"