Excerpts from the e-mails from Louie's owner in Buffalo, N.Y.:


"ABSOLUTELY ........BEAUTIFUL!!!!!!!!!!!!!!!!!!!!!

I cannot believe the likeness, you did a superb job.....My first response was " Holy Shit" !! What I liked was you got her with the tail on the front paws, which is how she always sits, and I forgot to ask you to do that. I'm going to give it to my wife on her birthday, Aug 28, so I'll send a pix or 2 then and you can post them if you wish. She will love it. "
"Hey Marion!

First off, I would like to say thanks again for the wonderful work! You captured the eyes, the fur, ever so perfectly. There are markings on Louie that I never told you about, and they are on the painting......My wife will cry!!!! My In-laws were floored."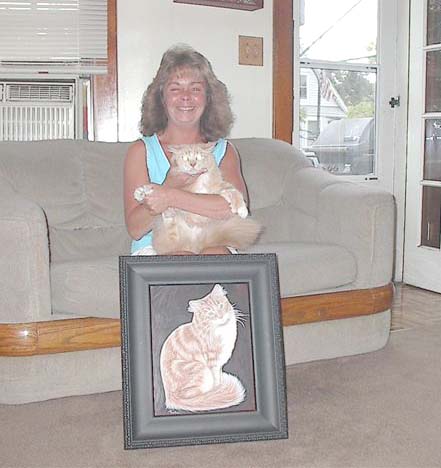 ..and... finally the birthday arrives!


"She cried, cannot believe the likeness, and absolutely loves it.
( Louie would not co-operate with pictures.)
Will send you more info later.

Thanks again, everyone is in awe!!!!!!"

Acrylic on canvas
11 inches wide x 14 inches high

2004, please see
Louie's dad, Oreo, aka "Feet"